Adventurous Hiking Engagement Session in Devils Lake WI - Vanessa + Peter
If there's one thing you should know about my gratitude for the outdoors is the fact that I love seeing things so big they make you feel insignificant— there's nothing better than witnessing a view that makes you feel like you don't matter.
And right now, there's a huge hype in the wedding industry to shoot in these grand places— I'm not going to lie, it's hard to feel significant in the photography world when the Midwest doesn't offer glorious mountains and insane desert views to work with. And it's hard to hear clients wanting something extraordinary but can't attain those "world class view photos" here in the Midwest.
Enter Vanessa + Peter. When Vanessa first reached out we connected instantly-- from a mutual obsession with our dog, the outdoors, and our feelings about wedding photography. While brainstorming ideas for their engagement session we knew it had to be in nature. At first it was camping related, but eventually the plan evolved into, how epic can we get here in the Midwest. I suggested Devils Lake because I had been itching to shoot there for a while—and I needed a couple willing to put in the effort to actually shoot at the top! It's a solid hike to do when you're trying to avoid sweating + exhaustion for a photoshoot.
They were in, and excited. Vanessa + Peter drove nearly 8 hours round trip to climb East Bluff of the Ice Age Trail in Devils Lake State Park, so we could shoot at the top. The entire time I kept thinking-- how lucky I am. I have clients willing to drive 300+ miles to hike 1/2 mile straight up to shoot a great location. It's easy to fall into trap of where I live isn't special — but that's just another lie we tell ourselves. We can keep dreaming of the mountains out west, but the Midwest is SO underrated, and really beautiful by the way. Our bluffs + forests + lakes are just as wonderful as the mountains + deserts far away.
Here's to chasing goals and clients that want to be a part of that. Hiking + shooting + adventuring with people who want to experience a little more in life is exactly what I want to be doing—feeling wildly significant after this shoot, even if it's just in my head. And that's all that matters.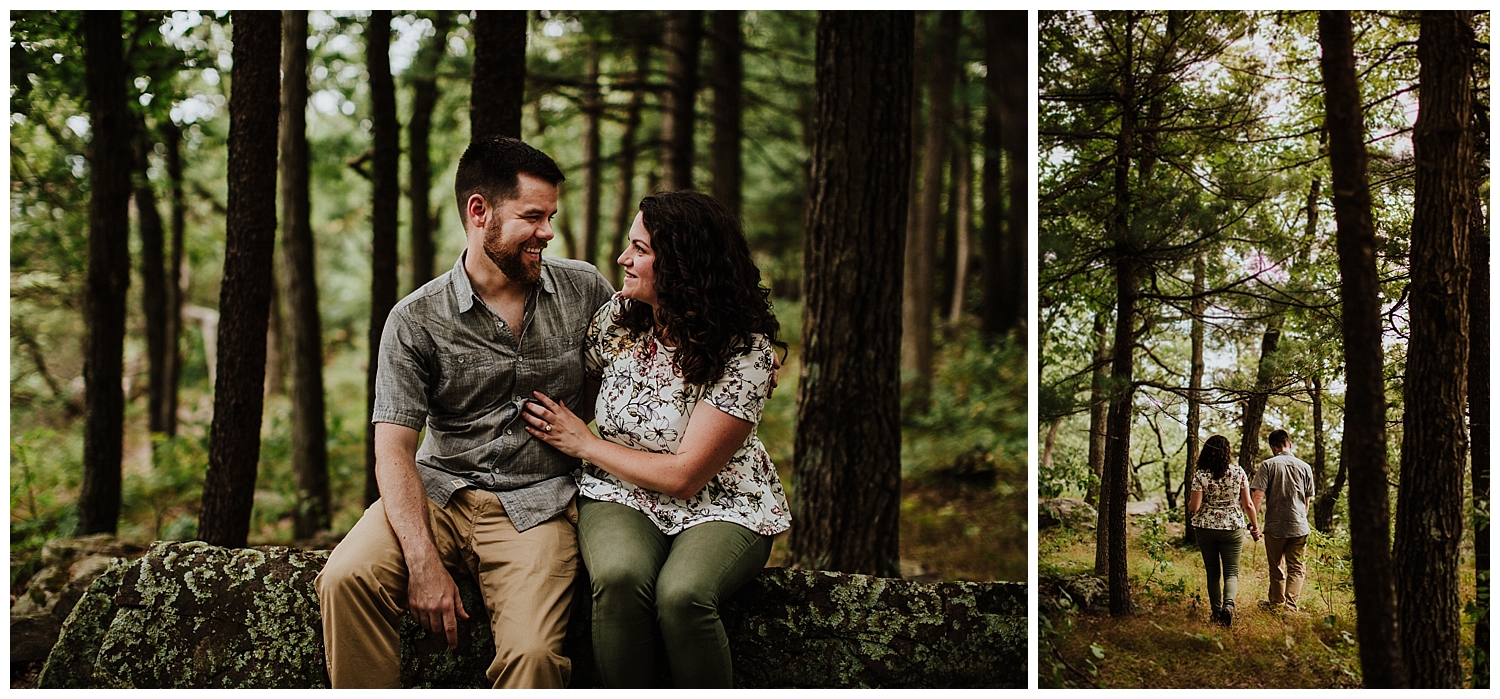 Thanks again to Vanessa + Peter for being so awesome and sticking through it. I can't wait for the wedding!
All my love,
G.
Interested in hiking to a crazy location? Reach out! I'm always ready for an adventure.