Highlights from 2017 | My Favorite Shots + Why
What a year.
2017 started off with the heaviest of hearts and more uncertainty than ever before. I had to say goodbye to my horse Luxe in February and after 2016 being filled with so much stress, defeat, and change I was determined to keep moving forward in 2017. Grief is an enigma and affects everyone differently. I could have unraveled and spent months wallowing in sadness from loosing something I was so passionate about, but instead I told myself to take that energy and focus it elsewhere. So here I was, 25 and in unfamiliar territory; my original career + grad school path had abruptly ended and I had this fresh new photography business to try and make work.
With fears of failing and wasting more time trying to figure "it" out-- what is "it" anyways, life? I was hellbent on doing things that made me happy because you really never know when they'll get taken away from you.
I dove in, became obsessed with doing things I'm passionate about, worked really really hard to learn + grow, meet people, fail + try again, and just TRUST THE PROCESS.
Over the course of 2017 I shot 18 weddings, dozens of couples, several newborns, horses+their humans, and over 150 portrait sessions. Each person and session has fueled a fire and supported my WHY.
So here's my year in review- the photos and sessions that have impacted me in some way and why I love them.
A woman and her horse.
My favorite shot of the year. When Kristen called me to memorialize her bond with Dreamer I could hear the urgency in her voice that hit SO close to home. Months before I lost my beloved Luxe and I knew exactly where she was at. The shock of reality that hits when you realize your time is dwindling with your horse is surreal. The look in her eyes and the weight they hold gets me every time. This photo solidifies why I'm doing what I do.
H+C.
A close second. I love the look on their faces and those last few seconds before you go in for a kiss. Chemistry, movement, grittiness, and real life. Timeless.
The couple on the couch.
Aimee sent me a photo of this room+couch and immediately I knew that it was going to steal the show. The light coming through the windows, her shoes on the floor. I stole them away from the party to slow it down and soak in what had all happened that day. It's intimate, soft, serious, and oh so lovely.
Jordache 2.0
This photo reminds me of a magazine ad for Jordache jeans back in the day where the model is on a horse. I think Heather one upped her cause this is real-- vibrant, windy hair, and youthful.
WILD IDEA #1
My first shoot of 2017. I met Heather in an online photographer forum- she was a model looking to do a fun shoot so I reached out. Last year one of my goals was to shoot more for myself and she helped kick that off- open to anything I suggested, she braved the freeeeezing temps and didn't let it show. This photo is fierce and sentimental and symbolizes a promise to myself to always keep trying new things.
Slow it down.
Backstory- I had been longing for this vintage Carl Zeiss 85mm at my local camera store for MONTHS. Every visit I crossed my fingers that no one had bought it yet. I finally pulled the trigger (pun intended) and Rachel + Ben were my first subjects with this manual focus treasure. They were patient and really soaked in the one on one time while I shot with this lens. I truly love my craft and take the time to learn more and perfect my skill. Not many people shoot manual because you can miss a lot of shots because your camera isn't focusing for you. This shot is definitely a favorite for the year because the 20 frames before it and after it didn't turn out. It's detail and bokeh background is every prime shooters dream.
Love her but leave her wild.
It's safe to say that this photo sparked my obsession with windy hair. I love the movement and how good photos don't need to be perfect. But let's be honest the way Clayton is looking at Cassie pretty much is.
The girl in the red dress.
This photo set is one of my favorites, ever. Alexa and I shared the same vision and everything just clicked. J+A were my first LGBT couple to shoot and have since grown to become very good friends of mine. They have crazy chemistry and every shot was SO.DANG.NATURAL. I should really title it all "I'M IN LOVE AND I DON'T CARE WHO KNOWS IT" But really- I love the look of this elegant dress in a forest, it's moody and vibrant-- two things I always aim for in my shots.
Loving you is yeezy.
J+J were my last wedding of the year and I knew the next day when I started perusing images that I was going to have a hard time culling them down. When you first start out as a wedding photographer hitting a stride and finding consistentcy is difficult. I found it in fall and this wedding I feel like I am at a full out run. True to my style and what I envision, this set is the perfect example of what I am heading towards in 2018. Bonus awesomeness was the amount of Kanye I heard throughout the day. Jaime even walked down the isle to a yeezy song so naturally a little hip hop love wins me over.
Hues of blue and true to you.
Working with Andi was a blast and I love the look we achieved here. The hues of blue and deep contrast help bring an editorial feel that I love. I've always had a pipe dream of being a fashion photographer and seeing my images on the pages of Vogue. One can only hope right?
Boho dreaminess.
My first wedding of 2017 and it was entirely different than anything else I shot the rest of the year. C+C planned a small intimate wedding at her fathers gun club and every detail was DIY. I love the intimacy in these photos and Cassie pulled off boho bride effortlessly.
Lake lovers.
An engagement session for the books. Hiking in the bluffs and finished off on the lake. Hillary + Cory made "serious" SO FREAKING AMAZING. I also love the way Cory looks at Hillary. Even after several years the infatuation is still as if they just started dating. Then to end the night with wake skating at sunset. Lake living goals my friends.
Bridal editorial fierceness.
This mini styled shoot was such a blast with Montana + Robyn from Illuminate Hair + Makeup. Montana fueled a whole new level of inspiration for bridal poses that I try to bring to the table with all of my brides. I love the mix of pretty + grunge.
You're beautiful.
With the launch of my new jewelry line I reached out and found Stephanie to work with to shoot all of my new pieces. This teal fence is right by my house and in one spot someone wrote in grafitti "You're Beautiful". I knew it would be the perfect spot to shoot a little fashion/lifestyle of my accessories. They're vibrant and the ugly bridge I pass under delivered a scene that doesn't feel like Milwaukee.
Off the trail.
My second shooter Matt found this location and it'll be our best kept secret. M+J won a shoot giveaway I offered last year and they killed it. This was the first time I shot in this type of setting and it's clear to see the forest vibe is my jam.
Bride Tribe.
My first styled shoot that I organized and shot for. My twist on the "bright + airy" edited feel. Definitely not my normal style but I think they still fit with my overall aesthetic.
FLAWLESS
I'd been wanting to work with Ally because she knows how to work a camera and this girls skin FLAWLESS. (tell me your secrets) But really, Ally is this giant ball of energy and excitedness that is fun to turn on and off. The second the camera goes up she turns into this fierce + serious model and the minute it goes down she's ignited again into this goofy high energy girl.
Together forever through time and space.
Where to start. Aimee and I met during study abroad in New Zealand and when she chose me to shoot her wedding in New York it couldn't come fast enough. One of my biggest highlights of the year. Aimee + Ben were into every idea I threw at them and didn't need much direction. In my truest form, a creative bystander to capture who you are and the relationship you're in.
An old lady always backs her man.
When M+R told me they wanted to pay homage to Sons of Anarchy I was happy to oblige. This chair picture is a favorite forever and I love the light on the second photo. The subtle glow gives off that moody dreaminess I adore.
Country Club Vibes.
My sister and my soon to be brother-in-law. I was over the moon excited to FINALLY shoot their engagement photos. Major golfers, we hit their favorite course and it provided the best backdrop. The humans in them aren't so bad themselves ;)
Pull me in close.
I love the mix of shadows and the height of the pompous grass (one of my favorite backdrops) in the first photo and the composition of the second. the bridal party makes a frame as well as the barn door in the background. Variety in setting is crucial for wedding photos!
Mother Nature.
Jeanette reached out for maternity photos because she wanted to treat herself before baby JuJu arrived. She slayed this moody mother nature goddess that still brings all the feels. Pregnancy glow looked SO good on her.
Stall light is the best light.
There's this peace and calm when you walk down a barn isle in the morning when no one else is there. Horses eating sounds like rain on a tin roof and the morning light that comes through each stall is almost majestic. You can see the dust in the air and if it's cold you can see their breath. When Hannah reached out to have me capture her+Rook I knew we had to take photos in his stall. There's a solitude and rehabilitation that occurs in this 12 x 12 box that soothes the soul.
Cliff walking.
I love love love the image on the left and apparently "the following" did too because it was one of my most engaged photos of the year. I think the composition is fun- it's split with dark and light and how I shot through the brush creates a little frame. The bluffs at Lion's Den Gorge gave us a great setting even in the "it's winter but no snow on the ground look". I'm also in love with birch trees so naturally when I have huge rows of them I work it. Check out that smile on Jaime's face and all that creamy bokeh in the background.
Happy Capras.
If I could include this entire wedding in this post I would (don't worry their wedding blog is coming soon). One of my favorite frames of a wedding day is the coming back down the aisle- "omg we're married" look. H+C have the most genuine expressions and it makes me melt every time. I also included the field photos because naturally this entire bridal party gave me shit about making them take photos in a dead soybean field. *Just trust me when I tell you things* I love the texture it provided and then you have all these really clean + elegant lines from their tux + long dresses. Lastly, that dancing picture gives me life. Please dance at your wedding. Get a little wild- LET OUT THAT EXCITEMENT--YOU JUST GOT MARRIED!
Witchy Woman.
When I told my friend Layne I was going to put her in a tub of milk she looked at me like I was nuts. Typically you see milk bath shoots filled with flowers and bright colors--don't get me wrong, we tried this but apparently fake flowers sink so I had to come up with something different which I'm glad we did. We switched outfits and I went for all b & w. I love the tattoo on her leg and that you can't see her full face- I like to play around with cropping. Also I'm a big fan of the shadows and the lines they make..you have this asymmetrical shape and in a very structured + parallel shape.
Gettin' married on a Tuesday.
It was 9am on a Tuesday and J+S got married at the Milwaukee County Courthouse. I hadn't met them prior and it was my first elopement. And it was pretty legit-later that day they ran off to Peru and waited to tell everyone they got married. They are so down to earth and hilarious. I loved being in on this little secret. The photos speak for themselves. Sarah wanted the architecture of the courthouse and we picked Lake Park to stick with building lines+structure too. At one point I was sitting in the back seat going to the next photo spot and thought- I want to be your friends. Actually, I might give you guys a call- can I come to the reception please?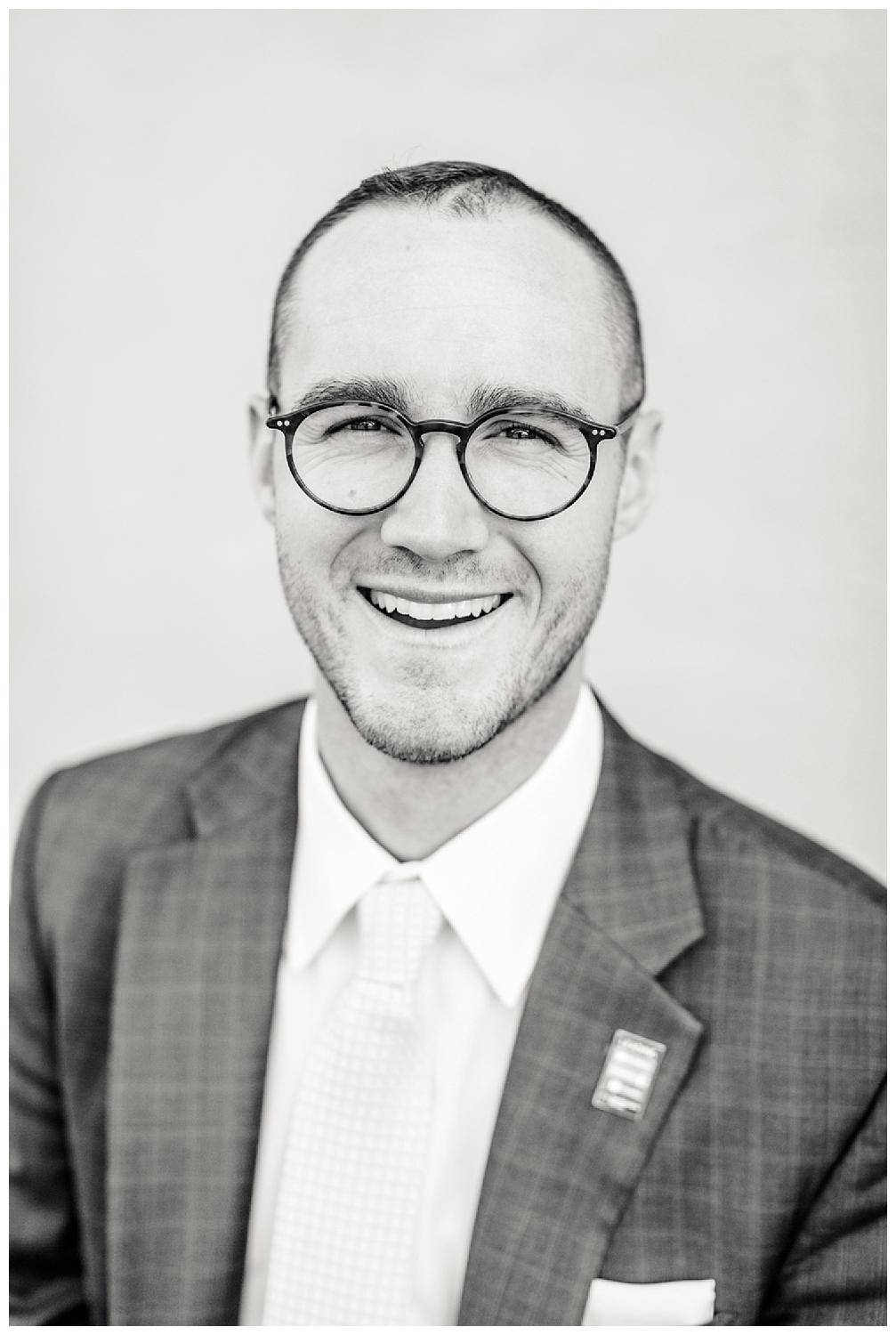 Headshot Game on Point
I firmly believe that if you are in the business world a good headshot is essential. Last year I helped 24 people revamp and rebrand themselves and this is one of my favorites. Dustin has a lot of character and is ALWAYS dressed to a T. I think his inviting personality shines through in this portrait.
The best vine wall of all time.
And I won't tell you where it is. I try to stray away from the stiff and posed portrait for senior pictures- and to be honest, high schoolers want awesome photos to share on instagram. I think this delivered. *insert heart eye emoji here*
Shy excitement.
Like I said before, coming down the aisle shots is in my top 3 from a wedding day. I love the look on A+C's faces. It's so honest+genuine and it was a quick moment. Caught it just in the nick of time.
Fairytale love.
This b & w is also in my highlight reel because of how close it is and the emotion it shows. Untraditional frames are my jam. The tree photo looks like it should be in some whimsical real life Disney movie. The tool on her dress as it drapes over the ground cover and the light coming through the trees = Swoon-worthy.
A man and his dog.
Except Murphy belongs to Chris (fisherman below) but Frank is Chris's dad. (Kenny's too). If there's one thing I can tell you about my future in-laws (not engaged, maybe in 10 years) is that they practically live in the woods. This family has introduced me to so many things outdoors and I'm grateful. They've also turned me into a dog lover. Every time I head up to the great state of Minnesota Frank takes me for a hike and sometimes I bring my camera. This hike was something special. It was a few days after I had to put Luxe down and Frank knew a little time in the woods would help me process what was happening.
Salmon in the city.
Chris (Ken's brother) is the ultimate outdoorsmen + hunting obsessed. He literally drove down to Milwaukee for 36 hours because he wanted to catch one of these monster King Salmons that were spawning in the river in Bayview. He caught this beauty and I'm still waiting for a sponsorship from Cabela's because of this photo. City fishing at it's finest.
Boudoir beauty.
I love a boudoir shoot. I love the confidence they elicit and the intensity they bring. Soft + sexy but never raunchy. The look in M's eyes has this sense of mystery and the way her tattoo wraps over her shoulder is amazing.
One last kiss for the rode.
I think it's safe to say this doesn't need a ton of explaining for why I love it. Honoring a bond that lasted 27 years.
Great hair + belly laughs.
My goal during any session is to get everyone relaxed enough so moments like this happen. Please be prepared for weird prompts- they may evoke a lot of laugher. Also, J+N may win the award for couple with the best hair.
WINNNNNNNDY hair.
I love it. Have you noticed it in a few other shots this year? Not sure why but movement in photos help tell a story. Riva and I work together frequently and the goal here was to show off these earrings- windy hair makes the frame that much better. (P.S.- She's a fashion blogger)
Negative space.
I'm an art lover and the majority of my walls are covered in it. While I believe you should hang classic wedding photos on your walls, I always try to include a few shots that are untraditional. Negative space photos are artistic and can help provide variety to your home- tell a different story.
Golden hour glow.
Another senior session from this summer. Golden hour is really hit or miss and the weather has to be juuuuuuust right. We lucked out here. Typically my photos aren't heavy on the warm/gold/brown tones but I found a sweet spot here that I love.
Welcome to the freak show.
In October I participated in a giant group shoot at a Haunted house and had SO MUCH FUN. Biased opinion here-- if your photographer never steps out of the box and tries new things, you'll have the same photos as everyone else. I firmly believe we have to try new+different concepts and shooting styles to keep growing and foster our sense of creativity. I love these horror shots, do they make the hairs on the back of your neck stand up? Give me all the creepy+twisted.
Happy thoughts + hugs.
Two things I always say to my couples during their engagement session. I love how genuine and natural all four of these photos are. R+M and J+K really took my prompts seriously and stayed open minded through their sessions. It's a great feeling when everyone is on the same page and trust the process. It's easy to see the emotion + love in all of these photos.
Perfectly imperfect.
It's clear that black and white is prevalent in my work. I love the contrast and the story it tells. Timeless and genuine. We forget about the colors of clothes and focus on emotion. Although the beach photo is out of focus it still captures the smile on her face and the way she's grabbing his arm. You wonder was being whispered in her ear and forget that everything is just a little bit blurry.
Twilightesque.
Leah is an old friend of mine and when she reached out to have me shoot her wedding I was bummed to find out I was already booked. BUT she still had me shoot their engagement photos. She wanted this forest vibe that didn't feel like Wisconsin. We found this little cove of pine trees and immediately she said it reminded her of Twilight. (I secretly love those movies). The second photo is a highlight for me because I love how Tim is pushing the hair out of her face. They thought I was doing a lens change-- I was but I didn't tell them I started shooting again. These little moments are the best and I always do a happy dance in my head when I catch them.
Big baby yawns.
The first newborn I ever shot I was terrified to move because they're so teeny tiny and fragile but when I worked with Josh + Kayla and their sweet little River was a turning point. This newborn was the most relaxed and laid back baby ever. She didn't cry or fuss. (I wish they were all like that) and we got some of my favorite newborn photos. All the little details that change so quick were captured and that big yawn + window light are photos you can look back at 20 years from now and wonder where the time has gone.
Sassy Scarlet.
Scarlet is the most lively and independent little girl I've ever met. The sass and goofiness was a challenge to real in but man did we get some fantastic frames. I love the detail in her hair and dress and the smile on her face. This shot has a youthfulness that we love about children and I feel like we were able to freeze that feeling and stage in life.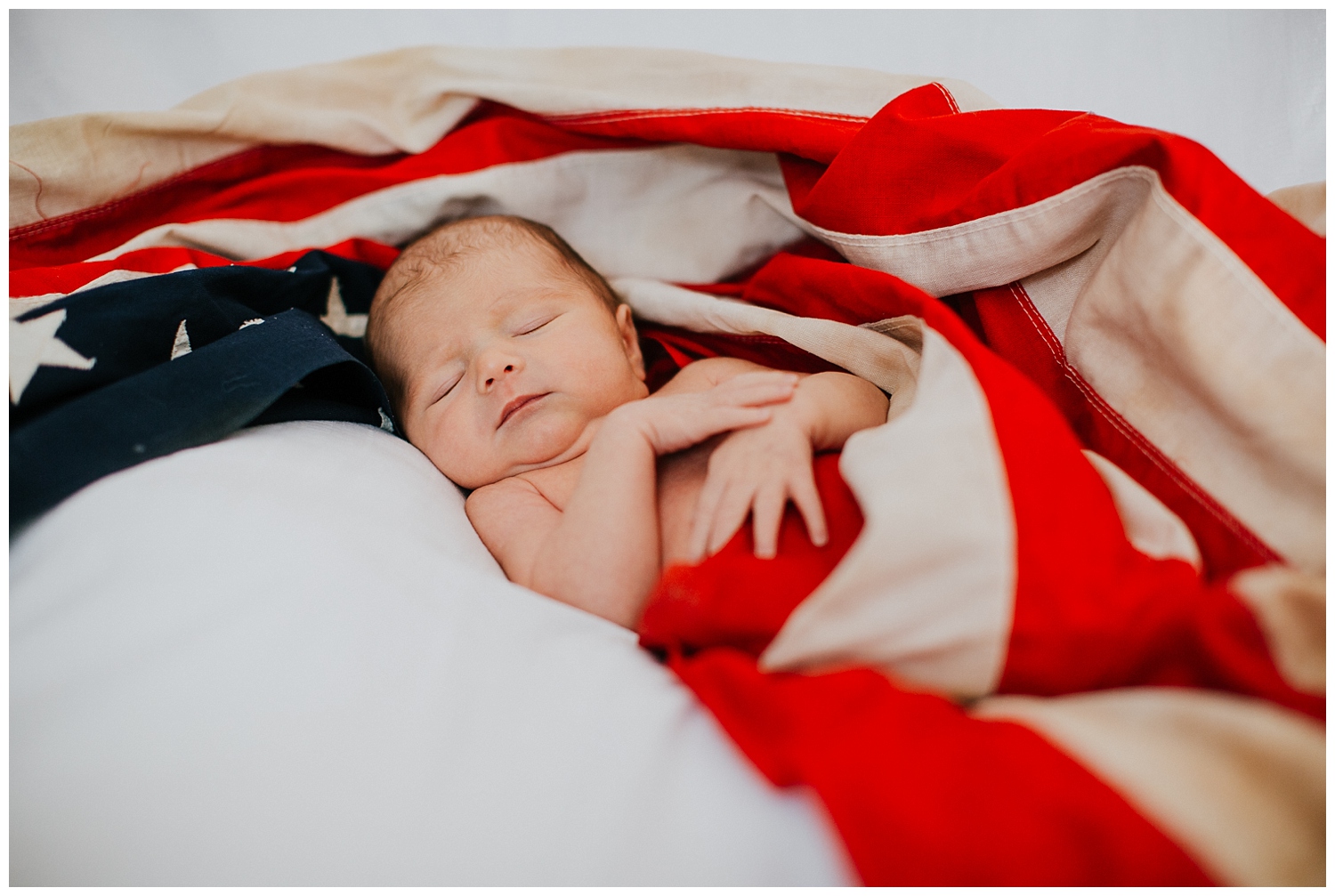 Semper Fi.
Meet Fletcher Paul. Son of a Marine and one of the best horsewomen I know. This kid is going to grow up and know how to do all of things. If the world ever comes to an end I want him on my team. But for now, let's soak in his innocence and how sweet he looks wrapped up in his dads flag.
Challenge accepted.
Photographers- if you want a challenge, shoot newborn twins. 6 hours later we managed to get baby A+B to sleep. Together. But only for a minute. This shot is my reminder that patience is a virtue and if I can come out alive from this type of session, anything else will be a breeze. The second shot I love because it shows this intimate moment of a mother and her baby. The mix of light and negative space really help insert you into that room too.
My favorite shots from my second shooter, Matt.
I am grateful I found this guy at a group shoot and have added him to my team. He's grown a ton over the year and keeps getting better. His eye for portraits + detail has excelled over the year and my favorite/best weddings were the ones that I had him working with me. Some of my favorite shots this year are from him and he deserves the credit.
A dad's love for his daughter.
I'm not going to lie- for a minute I was a little jealous when Matt got this shot instead of me- BUT it's was a good reminder that you can't be successful without the help of others. It was last minute decision to bring him to MN/ND for this wedding and this frame made it all worth it. *Fun fact, Matt loves black and white and when he's ready to start shooting weddings alone he's only going to offer them in black and white. Maybe I'll get to be his second?
You can also see the reactions below he caught because he took a totally different angle than me. If they don't convince you to choose a package with a second shooter I'm not sure what will.
Harleys + Bowties
If you follow me you probably saw this motorcycle shot from summer. His wide angle gear for shooting landscapes came in handy and made that bike picture so much more epic. I also love that he played around with composition+cropping on the bowtie picture and the angle he shot from for the light post photo is beautiful. So many textures+lines that give it a whole new element instead of just a walking photo.
Vintage Style + Badass groomsmen.
I always try to give M the freedom to shoot his ideas and contribute. I was busy shooting the ladies and when I came back down everyone kept talking about how cool this chair photo was that they just took. As a salute to his favorite style, I edited it in b&w because it makes it that much more badass. I also included this car photo because Matt tends to shoot from father away and I move in a bit closer. I love the frame he created and the composition is fantastic.
That's a wrap. If you made it this far I appreciate you. I truly put a lot of time + effort into my photos and I'm passionate about what I do. I've met so many incredible people, heard their stories, and hopefully told them in the best way possible.
I can't wait to see what 2018 delivers.
Get ready.
All my love,
G.